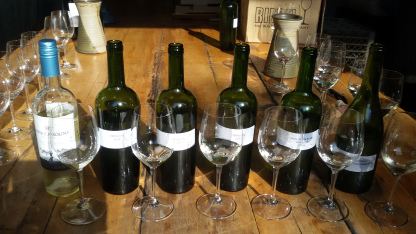 Visit # 23: Viña Santa Carolina #ChileWineExploration
Santa Carolina is another of the oldest wineries in Chile, dating back to 1875 and it is controlled by one family and belongs to a large group with finance available for investment. Although we were unable to coordinate a visit to the winery and vineyards, Santa Carolina's oenologist Andrés Caballero most generously offered to organise a tasting at his home outside Santiago, and where we went on my last day in Chile, Wednesday April 19th. This turned out to be national census day and when everyone had to stay at home until they had been "censused".  This meant that Santiago was a ghost town, everything was closed and no visits would have been possible at all.
Santa Carolina makes over 100 wines and we tasted 16 of these, a mix of commercial and very non-commercial bottles outside in the sun in his garden, what an honour! Having been with SC now for 12 years he is able to be creative in the winery, at least on an experimental level (witness tasting below) as well as continually improving the standards of the catalogue already on offer.
Tasting
Sauvignon Blanc Reserva, Leyda 2016, 5%: harvested quite early. Pale lemon in colour, pristine nose of lime and elderflower, very green and fresh. The palate is dry with medium + acidity, medium alcohol, medium body, very fresh, crisp flavours of lime and lemon, floral and with a medium + finish bitter finish. Well balanced, very good value at 10$ US.
Experimental Semillon (100%) #1 2014, Apalta, 80 year old, dry farmed vines from a warmer region than #2 and #3, lovely nose of honey, peach and spice, dry palate medium acidity, medium + body, quince and opens up to reveal ripe stone fruits, peach and nectarine, lovely pithy bitterness on the finish.
Experimental Semillon (100%) #2 2015, from a cooler region than #1 and #3, very unusual nose of toast and honeycomb which contrasts hugely with a very dry and austere palate with appley hints.
Experimental Semillon (100%) #3 2016, from a site midway between #1 and #2, this had much greener overtones and was quite mute and was accompanied by a discussion on Sangiovese in Chile!
Experimental Sauvignon Blanc/Semillon 2015, fermented in foudre; Andrés is looking to create structure. Unusual nose, tomato leaf? The palate is dry and here there is a lot of ripe stone fruit, peach, nectarine, and the structure he is seeking, there is a sensation of tannic presence with medium + fresh acidity, medium + body, with a bitter medium + finish.
Chardonnay, Carbonic Maceration (yes!), Cauquenes, fermented in open tank, so semi carbonic maceration, aromas of bubble gum, banana and cherry, most disconcerting in a Chardonnay!!! Andrés is looking for something easier than orange wines with a full round body, which he achieves. The palate shows banana, ripe stone fruits and melon. Very interesting!
Experimental Cabernet Sauvignon, Vino Natural, Maule 2015, old vineyards and an old oak barrel for fermentation. Pale ruby in colour (despite being CS), packed with red and black berry and stone fruits, and spice. The palate is dry with medium acidity, medium + alcohol, medium + firm tannins and has a certain concentration of blackcurrant and blackberry fruit flavours.
Santa Carolina Cabernet Sauvignon D.O. Valle del Maipo,8%: deep ruby colour, medium + nose of cassis, blackcurrant, a metallic hint, chocolate, leather, and which evolves quickly as it warms up. The palate is dry with medium + acidity, medium + well rounded tannins, very elegant, medium body but concentrated flavours, dark berry and stone fruits, blackcurrant, plums, cherries, cocoa, leather, spice and a long finish. Classy and excellent value at 20$US!
Santa Carolina Carmenère, D.O. Valle del Rapel, 2014: medium ruby in colour with an appetising nose of blackberries, black pepper, vanilla, oak, chocolate and that metallic hint again (I asked Andrés about this and it was interesting to hear that perhaps the metallic aroma and taste which I often get (and nobody else does) may well be my sensing of reduction or possibly iron; at least it's an answer to an on-going question which I have asked many times to people who know much more than me!). This Carmenère comes from older vineyards and Andrés explained that older vineyards ripen their fruit better, whereas younger vines can struggle to ripen their berries; things get better after about seven years and he also commented that the first crop from a vine is often very special in quality terms. I really enjoyed this wine and it is exceptional value at 20$US. Lovely!
Specialities Dry Farmed Carignan 2013, Cauquenes: another variety which needs to be fully ripe to express itself to the full, this was jam packed with fruit, damsons, plums, black cherries, blackberries, it spent 40 days macerating and fermenting. The palate revealed more black fruit with vanilla and cream, like a dessert bowl almost! Medium + body, medium very fine grained tannins and a nose that opened and evolved as we tasted.
Testing me! …… here I was presented with a challenge! What did I think it was? Medium ruby in colour with a nose of blackberry, plum, leather and a strong mineral element, it was fresh and very soft, smooth bodied. I thought perhaps Syrah, which is also what many of the oenologists it has been presented to blind have also said (thankfully I didn't lose face then!!!) but it was actually Cabernet Sauvignon grown on schist, 12.3% with 12 months in foudre. It was really lovely.
Luis Pereira, LP 2012 (12 & 13 served together; these are Andrés' babies!). In 2010 the project was begun with wines produced since 2012, using the same "recipe" or practices as 60 years ago, it is based on the idea of reviving heritage. We compare it with a bottle of (unlabelled save for identification sticker) 1959 Reserva Familiar. The grapes are Cabernet Sauvignon from three different ungrafted vineyards in three different areas with alcohol at 12.5%, fermentation with native yeasts followed by one year in barrel and one in foudre. Very complex nose of dark berry and stone fruits, spices, cream, coffee, tobacco, chocolate with very smooth, rounded, fine grained tannins.
Luis Pereira, LP 2013, this was not yet as knitted together and integrated as the 2012, more peppery, slightly greener profile but very elegant. They both need 3-5 years in the bottle to develop and are too young now! These are super premium wines at over 100$US; here's to maintaining heritage and traditional practices! Only 200 cases are produced.
San Rosendo 2016 Malbec Centenario, only 200 bottles of this one! I found this very difficult to taste, perhaps after the LP? It was very perfumed and flora with black fruits, the palate quite tannic, better with some protein at this point!
San Rosendo 2017 Malbec, 5% (just finished fermenting) very close to "Don Tito" whose vines we visited a couple of days ago. This is an honour; I am the first to taste this wine finished! A very floral and blackberry nose, it's still going through MLF, crisp acidity therefore, medium body, medium + tannins, medium finish, apples with blackberries and plums. Needs a little time to settle yet.
Romano 2014 ("César") 2014 (only for oenologists, not on sale!) the variety here is unknown, supposedly stemming from Roman times, the grapes are hand harvested. It's very interesting, very pale ruby in colour, a light nose of red fruit, redcurrants, strawberries, plums, it's balanced with medium alcohol, light body, medium tannins, curious but fresh and enticing. 
We also tacked two Clos des Fous on the end here, a 2014 Pinot Noir and 2013 Cabernet Sauvignon but they were too warm and didn't show well.
And that was the close of my trip, my WSET Diploma Scholarship prize trip. Max did manage to book dinner in a very chic restaurant, 040, owned and run by Madrid chef Sergio Barroso that evening, to round off my Chilean adventure. Great finish too!
And a big thanks to Max for turning my plan and wish list into reality!
Originally posted at: https://wineovino.wordpress.com/2017/08/10/23-santa-carolina-httpwww-santacarolina-clen/
andes@andeswines.com