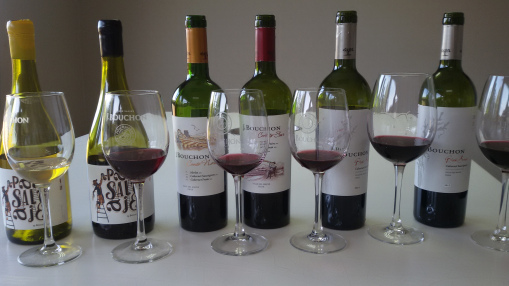 Visit # 22 Bouchon Family Wines #ChileWineExploration
After a two and a half hour drive, we arrived in the evening at Bouchon Family wines in time to see the most spectacular sunset over the vineyards which surround the winery and boutique hotel, where we had been offered the sumptuous hospitality of Casa Bouchon. It is located in the old family "casona", and which is traditionally built around central courtyards. It is a beautiful place in a stunning setting and I can fully recommend its very warm welcome. What's more, my own room looked out towards the winery; what better?! It was a chilly evening and a fire had been lit and in front of which we sat with a delicious bottle of 
Bouchon Extra Brut 
sparkling rosé wine (País, Cinsault, tank method) while waiting for dinner, which in turn was accompanied by
 Las Mercedes Singular Semillon
 (unoaked) and
 Las Mercedes Ensamblaje 
(Cabernet Sauvignon, Syrah, Malbec, 12 months in French oak), all three very lovely with a wonderful dinner. After good night's sleep (relatively so for me!) it was up early the following morning just in time to see the mists lingering in between the vines, sit down to a good breakfast and then pack ready to leave straight after our visit.
Christian Sepúlveda, J. Bouchon's wine-maker met us to show us some of the Mingre Estate where the winery is located, which is about 40 km from the Pacific to the west, about half an hour from the town of San Javier to the east and only about 15 minutes from Viña Gillmore. It lies between the coastal mountain range and the Maule Valley alluvial terrace on poor, well drained soils and with a large diurnal temperature range in summer; hot days and cool nights. We went first to see the wild vines, old País growing in a natural corridor between vineyards, growing up trees, un-pruned, un-touched except for hand harvesting using ladders and fighting the undergrowth!
The Mingre estate is now in the hands of the 4th generation of the family. It comprises approximately 50 hectares, half dry farmed and on decomposed granite soils. Varieties grown here include Syrah, Carmenère, Garnacha, Cabernet Franc, Carignan and Mourvèdre as well as the wild País. The first year for the País Salvaje (salvaje means wild in Spanish) was 2015 and from 2016 both white and red versions were made. The vines survive from when País was pulled out to be replaced with "quality" or international varieties 20 years ago. Its age is uncertain. About 6000kg are harvested. White varieties come from a different vineyard, Batuko, about 30km from the Pacific; dry farmed Semillon, Chardonnay and Sauvignon Blanc. In 2015 a lot of soil studies were undertaken at Mingre and maps of the vineyards made according to soil type.
The traditional old adobe constructed winery remains in use. Amongst the equipment are 225 litre oak barrels, stainless steel tanks, very large 18,500 litre concrete vats which are good for maceration, as well as concrete eggs and clay tinajas. A total of about 80,000 cases are made (960,000 bottles) over the range of 16 wines.
Tasting
País Salvaje Blanco 2016: hand-picked up ladders into small plastic boxes, fermentation of pressed País grapes without skins for 6 months in amphora. "Natural", no intervention apart from 10ppm SO2 on bottling. Pale gold in colour, unusual nose, delicate, medium – intensity, closed, appley and floral. Palate is dry with medium + acidity which is grippy, malic, medium body and alcohol. It has real character, it's different, and I found it enjoyable but hard to describe!
País Salvaje 2016, 12%: the grapes are hand-picked and then 50% de-stemmed using the traditional Maule method of Zaranda, a box with holes cut into one face and the grapes effectively rubbed through them and the other 50% carbonic maceration for 1-2 days in concrete. It's a beautiful purple colour, very youthful nose of red berry fruits, strawberries, cherries, raspberries and plums, banana and bubble-gum, a touch of cacao. The tannins are soft and there is an added mineral note to the aromas. Medium body, medium alcohol, medium + length. Very unusual and very nice!
Bouchon Canto Sur 2016, 13.5%: Carmenère 50%, Carignan 25%, País 25%, all from granite soils, and unoaked winemaking. Medium intensity purple colour, very youthful still, medium + intensity nose of red and black berry and stone fruits, with a hint of green pepper (from the Carmenère), spices, cinnamon. The palate shows medium + mouth-watering acidity, medium + firm but fine tannins, medium – body and medium + alcohol, red fruit, floral and sweet cocoa. It has a medium + length. Very nice.
Bouchon Canto Norte 2015, 13.5%: Merlot 50%, Cabernet Sauvignon 25%, Cabernet Franc 25%, 100% alluvial soils and unoaked; fermentation in cement tanks for 8 months. Mid ruby in colour medium + intensity nose of red plums and cassis with hints of green pepper. The palate is dry with medium + acidity, medium + body and juicy fine tannins, having much more structure than the previous wines. I imagined it to be even better in a year when the tannins were a little softer. But still lovely now.
Bouchon Cabernet Sauvignon Block Series 2014, grapes from mixed plots of granite and clay and aged in 225 litre barrels, very classis Bordeaux style wine, very good structure, all where it should be, acidity, alcohol, tannins soft and smooth and long finish.
Bouchon Cabernet Sauvignon Block Series 2015, a year younger, with a more floral nose, somehow more elegant and better defined. Both wines excellent value at 12€!
And that was my time over at J. Bouchon. It was another fantastic visit, a huge thank you to the family for their wonderful hospitality and to Christian for his valuable time, again generously given.
Original post: https://wineovino.wordpress.com/2017/08/10/21-bouchon-family-wines-maule-httpbouchonfamilywines-com-and-httpswww-paissalvaje-clhomeeng/
andes@andeswines.com