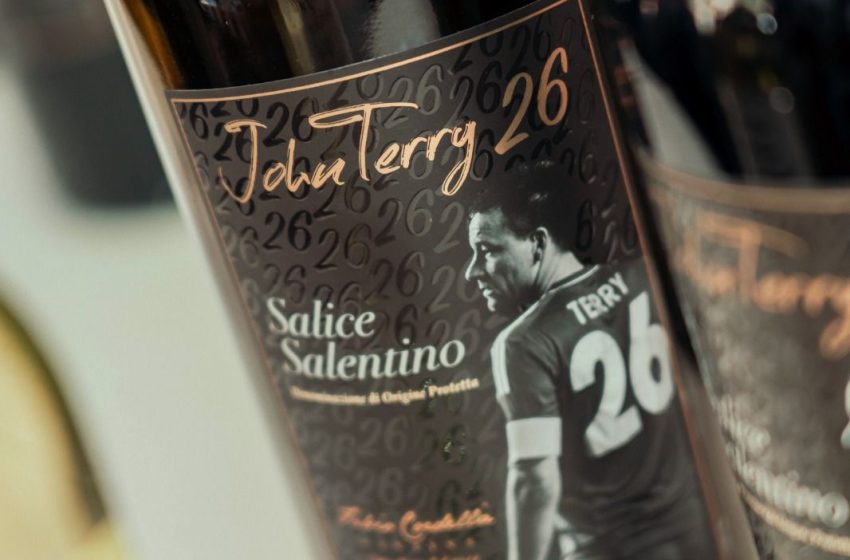 Fabio Cordella launches the John Terry trio in The Wine of The Champions portfolio
Arguably one of England's greatest ever defenders, former Chelsea FC and England Captain John Terry is no stranger to leading his team to victory. His latest personal challenge has been to follow his heartfelt passion for wine by developing his own range, joining forces with Italian sporting director and wine supremo Fabio Cordella to produce a tantalising trio of Italian wines from Puglia under The Wine of The Champions label.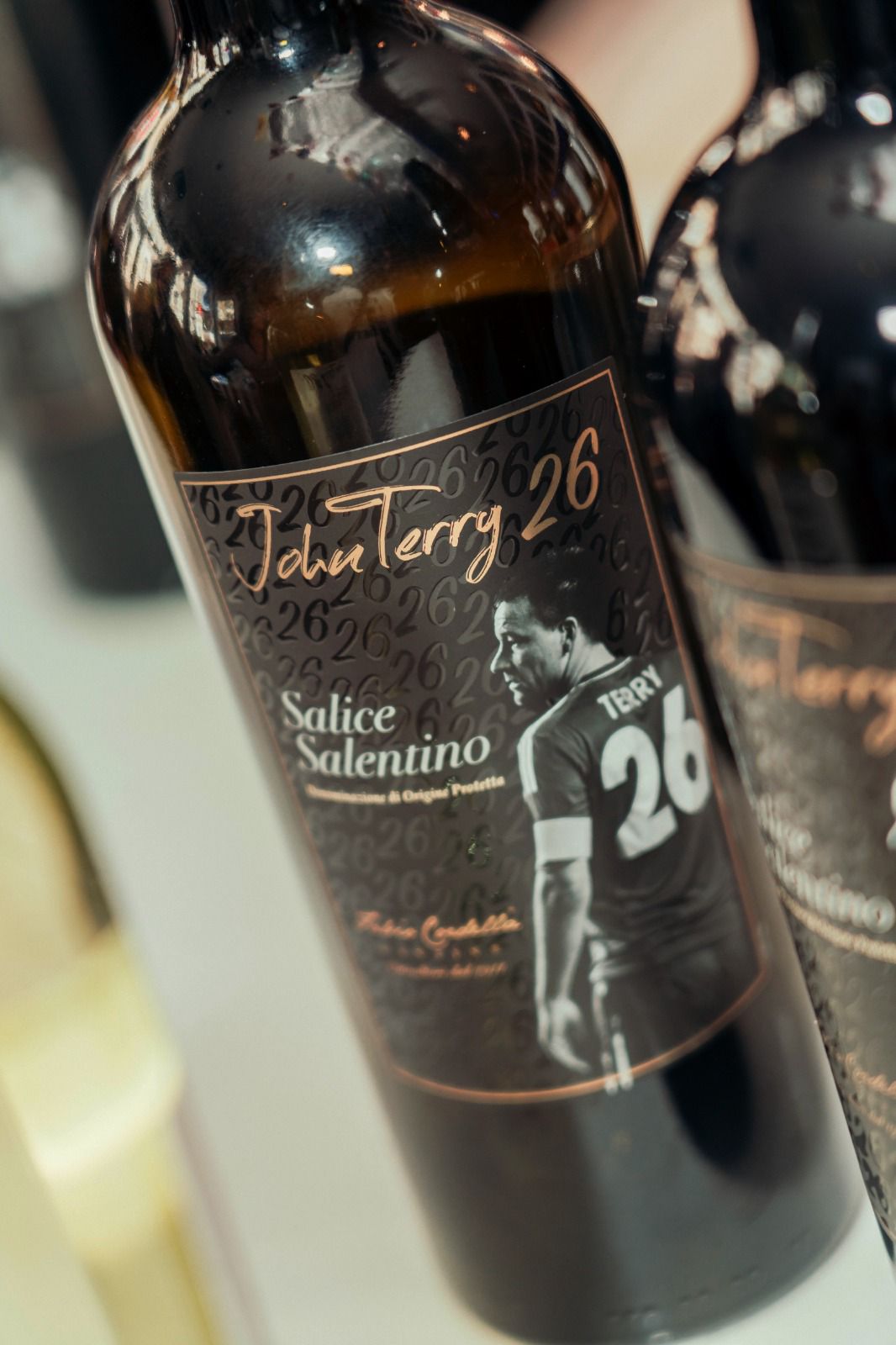 The John Terry 26 range made its UK debut at an intimate media round table at Chelsea's trendy Gola Restaurant yesterday (6th October) lunchtime, where Fabio – a fifth generation winemaker – talked animatedly about maintaining the winemaking traditions of the Salento region, in native Italian with simultaneous translation provided by Gio Parla of GP Brands who hold the exclusive distribution rights to The Wine of The Champions range.
"There's finesse here with all the wines" remarked wine writer and judge, Robin Goldsmith. "The Chardonnay is unoaked and all the better for it. Bright acidity with white peach, lemon balm and a mineral edge, this retains both a lightness and intensity that carry on to the finish. The rosé is similarly fresh with a red berry and spice tingle plus good acidity/tannin balance. The red just gets better with time in the glass or in decanter. Give it an hour to breathe and you will be rewarded."
The brand bears John's cherished player number 26, embossed across the label for each expression. Displaying precisely the same determination, dexterity and skill as on the pitch, John explained how he has been closely involved at each stage of the process over the past two years.
"In a sense, it was the perfect lockdown project!" mused Terry, as he recounted how Fabio would send him repeated samples based on his personal preferences for each style, honing, developing and refining until they settled on the final trio. "I said to Fabio, I'm going to be really particular as I love my wines and I want these to be just right" continued Terry, as he swirled his glass, visibly enjoying the fruits of their labours.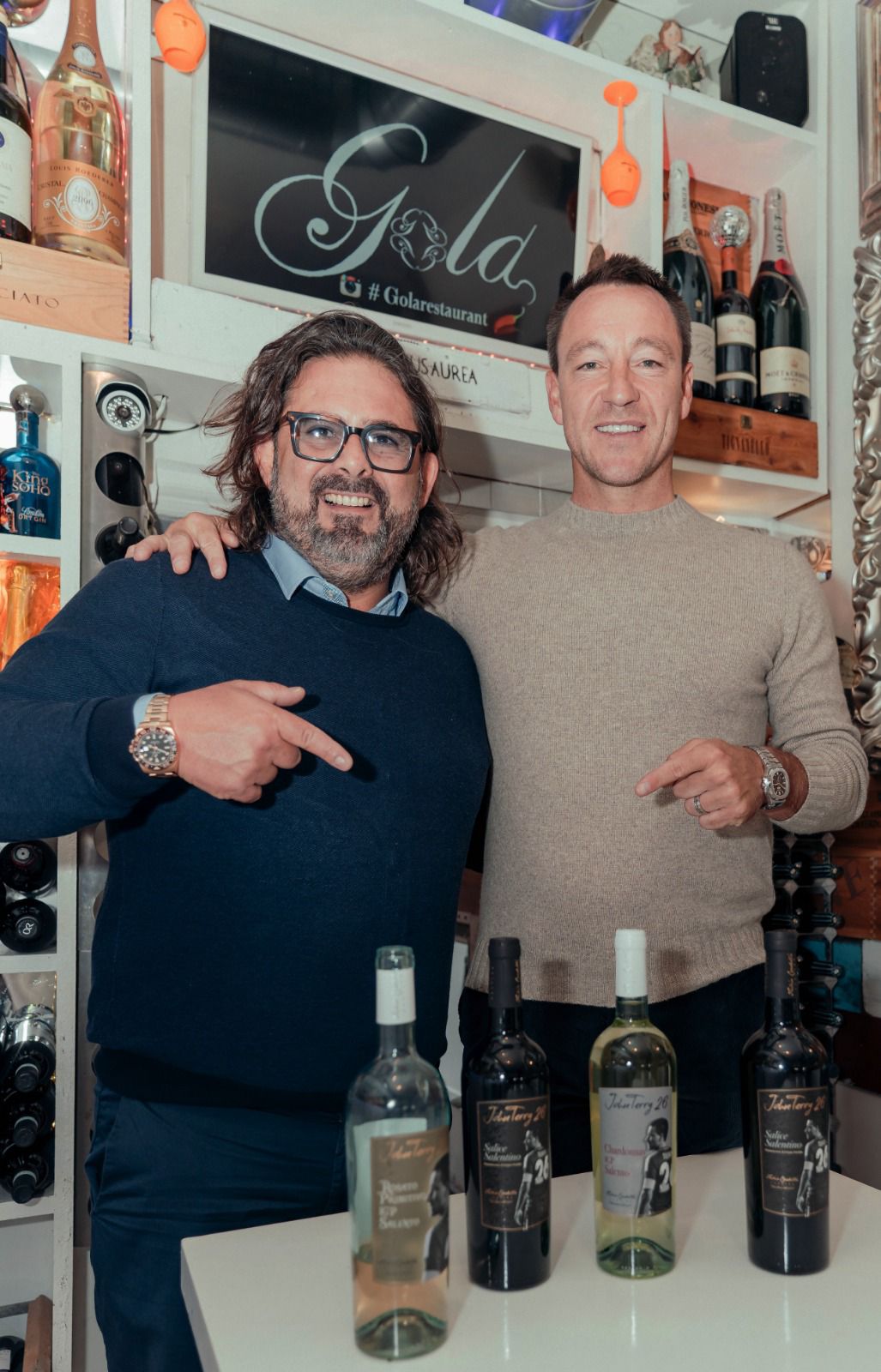 Comprising a Chardonnay IGP Salento, a Primitivo Rosato IGP Salento and a Salice Salentino DOP, the John Terry 26 range forms an intrinsic part of The Wine of The Champions full portfolio from Fabio Cordella Cantine dedicated to some of the most iconic names in football including Ronaldinho, El Gran Capitan Ivan Zamorano, Julio Cesar, Roberto Carlos, Wesley Sneijder, Marco Materazzi, Marcus Cafu, Amauri and Seba Frey.
Fabio recounted how he had always longed to build a world-class team of champions. "A life chasing the ball, the great passion for football. On the other side, the wine tradition, the flavours and nuances of the wine that recalled my land. The day I combined football and wine was the day that all circles closed" said Fabio, as he explained the vision.
The grapes have all been grown on the 137 hectare Cordella family vineyard in Puglia, in the south-eastern corner of Italy. Their joint aim was to create a versatile and complimentary range of wines, full of euphoria "like tasting a moment from long ago that you'll never forget."
The John Terry 26 Chardonnay IGP Salento is straw yellow in colour, with green reflections displaying a delicate, pleasantly fruity bouquet. Aged in stainless steel tanks to preserve the aromatic freshness, this 100% Chardonnay is crisp, harmonious and slightly savoury in character.
The Primitivo Rosato IGP Salento is an exquisite golden salmon pink with vibrant red berries and cherries, making its delicate fruitiness an ideal accompaniment to fish and shellfish.
The Salice Salentino DOP is a blend of Negroamaro (80%) and Malvasia Nera, intense red in colour with violet reflections. Red berries are in abundance with hints of vanilla and light cocoa, from ageing in barrique and the wine pairs beautifully with roast meats and aged cheeses.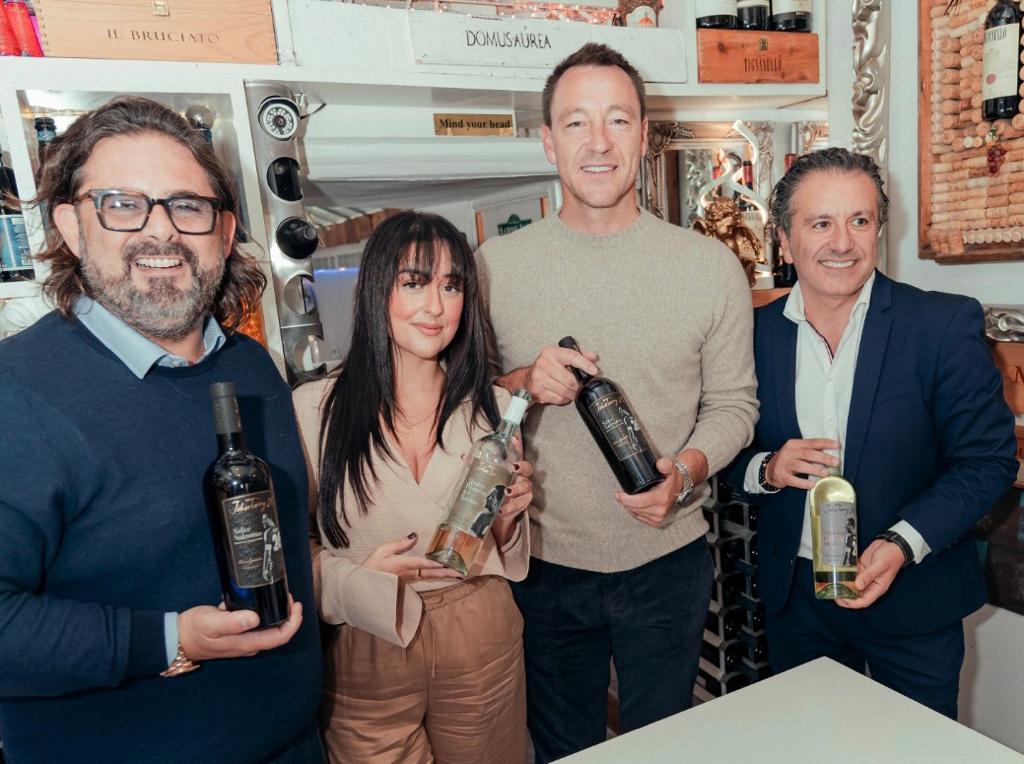 The full range of wines together with a fine selection of beers (including a gluten-free option) will be exclusively distributed across the UK by GP Brands [https://www.gpbrands.co.uk/product-category/john-terry-wine-of-the-champions/], whose founder and director Gio Parla first met Fabio by a chance encounter and the two instantly clicked through their shared passion for both wine and football, as well as being fellow Italians:
"This is a great opportunity for us all at GP Brands to not only be able to share our love of football but also our love of wine with customers across the UK and just in time for the World Cup, we will all be celebrating with a glass or two of John Terry 26 wine" commented Gio.
You can ask for the high resolution of pictures in here: https://www.andeswines.cl/contacto/
Photos: @productionsbylorenzo