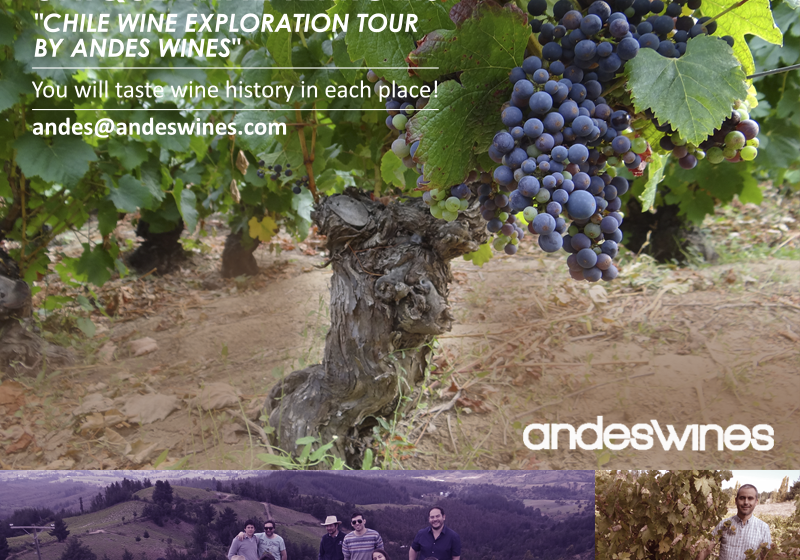 Old Vines in Chile: Unique Wine Terroirs Explorations
«CHILE WINE EXPLORATION TOUR BY ANDES WINES»
You will taste wine history in each place!
Chile has unique Wine Terroir with old vines from north to south, east to west!
Valleys to visit: Elqui, Limari, Aconcagua, Maipo, Casablanca, Leyda, Cachapoal, Colchagua, Curico, Maule, Itata, Bio Bio, Araucanía and Puelo Valley
+140 years old Malbec vines in South America at San Rosendo
+ 140 years old Pais, and Moscatel de Alejandria at Itata Valley
+ 120 years old Frontigan vines at Marga Marga Valley in Valparaiso Region
+ 70 years old Bonarda Wild Vineyard at Puelo River in Patagonia
+ 50 years old Carignan Wild Vineyard at Colchagua Valley
+ 60 years old Carmenere Vines at Almahue Valley
+ 70 years old Carignan at Maule Valley
Contact us to organize a unique experience in the Chilean Wine Terroir!
We have tours for 3, 5 and more than 10 days lead by our founder!
andes@andeswines.com
twitter: @andeswines
Facebook: Andes Wines
Instagram: Andes Wines