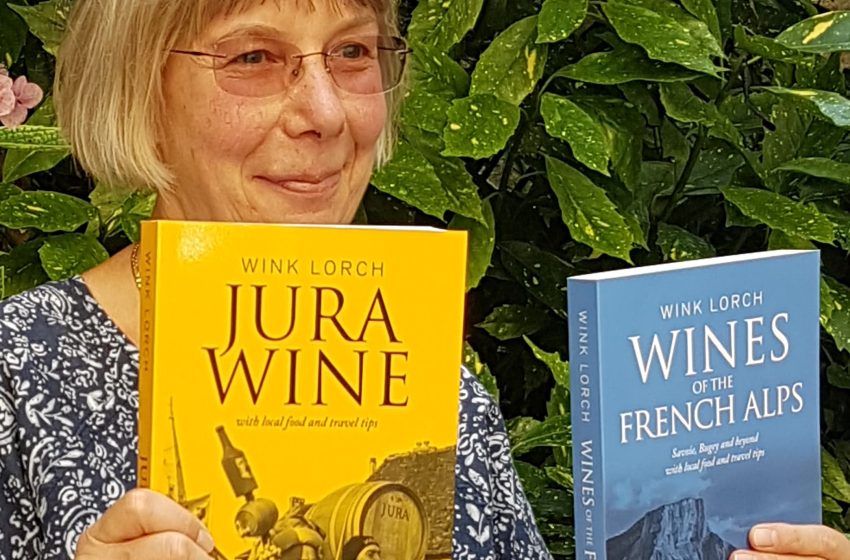 Wink Lorch, British wine writer and educator
Let's meet Wink Lorch, British wine writer and educator that has always worked in the world of wine: writing, editing, entertaining, and teaching. Living between London and the French Alps she is the go-to authority on Jura, Savoie and French Alpine wines, and has self-published two award-winning and well-reviewed books: Jura Wine (published in 2014) and Wines of the French Alps: Savoie, Bugey and beyond (2019) – both were supported with crowd-funding Kickstarter Campaigns. Jura Wine won the André Simon Food and Drink Book Award for Best Drink Book 2014, and Wines of the French Alps won the OIV prize 2020 in the category of Wines and Territories. Her books are available for purchase and shipping worldwide direct from her website.
Wink has contributed to many books, magazines and on-line journals and current writing work includes articles for Wine Searcher and The Drop from Pix Wine.
Wine was a founding member and first chairman of the Association of Wine Educators, and has been a member of the Circle of Wine Writers for many years – she has recently become a Committee Member.
How did you become a specialist in Jura wines? Can you explain to us?

I love the mountains and am a skier, and for many years I have been lucky enough to own a second home in the French Alps, in the department of Haute-Savoie, about an hour from Geneva in Switzerland.
Naturally, I learned about my local wines from Savoie, but in the past the Savoie wine region was always linked with the Jura wine region. They are two tiny wine regions either side of Geneva, close to the mountains and in the past the wines were rarely exported. In the late 1990s I was asked to write about Jura and Savoie for an encyclopaedia, so I made my first visit to Jura and was really surprised about how challenging the wines were in terms of styles and variety for such a tiny region – there was so much to learn. Then I wrote on Jura and Savoie for Tom Stevenson's annual guide Wine Report from 2004-2009 inclusive, so each year I would visit both regions extensively.
This period happened to coincide with a growing interest in Jura wines from American and other wine importers, and a big increase in quality with new generations of winegrowers making changes. Suddenly, wine buyers and drinkers wanted to know more about them. There was almost no information anywhere on-line, even in French. I seemed to be the only person who could give the answers in the early days of social media. It went on from there and I decided that a book was necessary. Because I wanted to separate Jura and Savoie – they are really very different from each other in terms of terroir, grape varieties, and wine styles – no publisher would touch the idea. I decided to self-publish having found there was a real interest from around the world in buying the book.
In brief, how do Jura and Savoie wines differ?

Firstly, I admit the vineyards do share the fact that they are on the foothills of limestone mountains, sometimes on very steep slopes and broadly-speaking, both have northern continental climates. But there the similarities in terroir stop, with more heavy clay and a wetter climate in Jura, and very varied soils in Savoie, often from old glaciers, and a more extreme climate. Jura is just one hour's drive from Burgundy and has for centuries grown much Chardonnay and some Pinot Noir. Jura also has three wonderful indigenous varieties: Savagnin, Trousseau and Poulsard. From these five varieties, it makes an extremely wide range of wines including sparking (over 25%), whites ranging from Burgundian styles to the intense oxidative Vin Jaune, and reds that are very pale but with surprising depth of flavour. There is a big organic and natural wine movement in Jura and this has also helped to attract customers.
By contrast, Savoie is closer to the northern Rhône Valley. In fact, Mondeuse, its most ancient and revered red grape variety, is a close relative of Syrah. The region has a huge number of grape varieties and some that fell out of use are being revived – this along with revived vineyard hillsides higher in altitude than before, make Savoie a really exciting region for the future, especially thinking about climate change. One very rare Savoie variety that might interest you is named Douce Noire and is none other than Argentina's Bonarda variety. In Savoie it produces lower alcohol, delicate fruity wines and like many indigenous varieties, it ripens quite late. In modern times Savoie has been known especially for its white wines – it has two fantastic indigenous varieties: Jacquère, for low alcohol, fresh whites that can really express minerality in the right hands; and Altesse (used for appellation Roussette de Savoie), which is a richer wine, very expressive and long-lived. Traditionally Savoie wines were mostly made in an early drinking-style and sold in the ski resorts, but that is changing. There is a vibrant movement in Savoie of younger growers turning to organics and making wines that are worthy of exporting and of ageing. It's an exciting time there.
Your second book is called Wines of the French Alps. Why didn't you call it just Savoie Wine?

Adjoining the Savoie wine region is a small area called Bugey, known for its pink sparkling wines called Cerdon, made from Gamay and Poulsard in the ancestral method, and Bugey also makes a range of reds and whites, some from Savoie varieties. Also adjoining is the tiny wine region of Isère (close to the city of Grenoble, the region used to be a huge producer, but vineyards nearly died out) – it has a fantastic range of ancient grape varieties. I wanted to include both of these, as all too often they are just wrongly included under a heading of Savoie wines and quality is also on the up. And then I decided to go further south and include another region called Diois, famous for Clairette de Die, another ancestral method sparkling wine from Muscat, and its neighbouring region, the Hautes-Alpes, which has much higher vineyards, specializing in rare grapes too. All five regions are effectively Alpine and share the same basic terroir characteristics and wine styles. My decision gave me a lot of work, but it was fascinating.
Do you still give wine talks? And where do you do these?
I was primarily a wine educator before I was a wine writer and I still love being in front of an audience, although writing the books took me away from that scene a little. The great thing about promoting the books meant that I was asked in various countries to give educational talks around the theme of the books. I was able to do an extended book tour in the US in 2019 on the basis of being paid for some educational talks and went to Stockholm in Sweden too. During Covid, the prestigious London wine club 67 Pall Mall began a series of webinars, through Zoom, and offered customers tasting bottles to go with them. I was able to do a few of these from my Alpine home – it was strange at first, but fun. I'd dearly like to do more talks and tastings – I love sharing stories from my 40+ years in the world of wine, not only about Jura and the French Alps.
Do you have any plans for the future you'd like to share?

Perhaps you could set up a speaking tour for me in Chile and Argentina? Any chance? In any case, I still love travelling with a purpose when I can, so I hope to do more, although with the concern about carbon footprint, I'd rather spend a longer time in one country and take fewer flights.
andes@andeswines.com