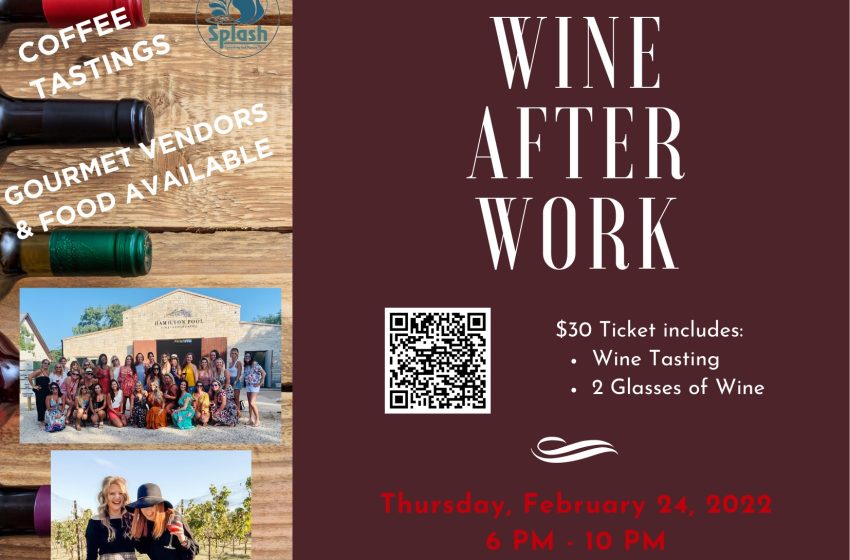 Wine After Work, social event & wine tasting at Hamilton Pool Vineyards
Thursday, February 24th, Hamilton Pool Vineyards will be hosting WINE AFTER WORK, a networking and business meeting for wine lovers and workers local to the Dripping Springs, San Marcos and Austin area.
The host of the event is Max Morales, Agricultural Engineer, former Wine Specialist of National Geographic Explorer and founder of andeswines.com, who is now a digital nomad/Travel Writer traveling between Mexico, Guatemala, Costa Rica and the USA to write about coffee, wine and chocolate.
Wine After Work is an international event that began 10 years ago in Chile as Wine After Office,  which was adapted to the culture and traditions of ​​the Dripping Springs and Austin area.
The event will take place from 6:00 to 10:00 pm at Hamilton Pool Vineyards. Tickets to the event are $30 and include a custom wine tasting and 2 glasses of wine. Artisan vendors, coffee tastings and gourmet food options will also be available.
Guests can enjoy an afternoon of pleasant conversation between friends, inside the large Hamilton Pool Vineyards tasting room or outside in their beautiful courtyard situated directly in the middle of the vines.
Wine After Work is organized by AmixTech, owned by Joshua Diskin, serial entrepreneur and co-founder of Maxene's Microgreens and co-owner of LFTD Supplements in alliance with Hamilton Pool Vineyards and the media support of AndesWines.com, the leading wine site of SouthAmerica.
Attendees to access said tasting must post on social networks the reason why they want to be present at the tasting with #WineAfterWork on twitter or Instagram.
«Thanks to this international WINE AFTER WORK event, our clients and friends will be able to enjoy our wines as well as being part of our community! Wine After Work creates a perfect environment to provide our guests with the space and atmosphere to host a business meeting or to sit down and enjoy a coffee or glass of wine while chatting with friends or wrapping up their work day before enjoying this fun event." – Sean Kattner, owner, Hamilton Pool Vineyards
Contact: andes@andeswines.com for partnerships and sponsorships.