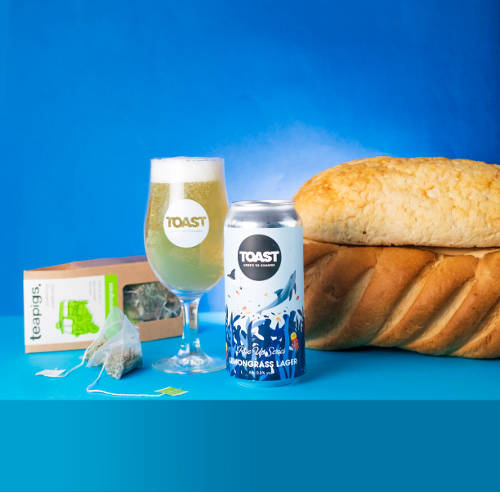 Toast Ale rises up against climate change
Toast Ale is an award-winning producer of sustainably brewed beer.  They use fresh surplus bread from bakeries and unused heel ends of loaves from the sandwich industry.  This lowers the carbon footprint of their beers, helping both environmental and social causes.  As a result, they have been raising awareness of food waste, a significant contributor to climate change.  They also show how great beer can be made with less reliance on water, energy resources and land devoted to growing grains.
The company donates profits to charities, including Feedback, which campaigns for a more sustainable food system, combatting food waste.  They also collaborate with breweries and bakeries around the UK and worldwide.  
Rise Up
At this year's Brew//LDN Beer Festival, I spoke to David Ryan, Toast's Director of Sales, to talk about their new Rise Up series.
Rise Up is a series of collaborations with B-Corp certified companies, highlighting food waste and different environmental topics soon to be debated at COP26.  David explains further:  «We've collaborated with other people, trying to raise awareness and getting the message out there.  With each of these beers, there's a little QR code.  We're trying to get customers to lobby their MPs to get them excited about COP26 and to make a difference.«
There are six new limited-edition beers in the #RiseUp range.  You can find information on each beer and the environmental causes they support on Toast's website (links included below).
All Toast beers are vegan, so do not contain any lactose.  Creaminess is achieved with oats.
Rise Up for Forests
The series began with Chocolate Stout (6.2% ABV), brewed with surplus cocoa powder from Divine Chocolate.  «We brewed this in December 2020«, says David.  «It's matured so well.  Tasting it six months on, I feel it's even better!  Our Master Brewer, Stuart Robson, worked really hard to find what would work best and settled on the cocoa powder.«
There's a subtle taste of cocoa powder with a balanced, creamy quality and a slight bitterness without too much sweetness.
Rise Up for Soil
Oat Pale Ale (4% ABV) is a session hazy pale ale made with surplus organic oats from Rebel Kitchen.  It's very easy to drink, full of juicy fruit notes with a creamy mouthfeel and a touch of spice.
Rise Up for Rivers
Baker's Witbier (5% ABV) is a collaboration with Hobbs House Bakery, using surplus organic loaves and organic British wheat, malted barley and oats.  It's a Belgian-style spiced wheat beer with subtle notes of orange and coriander.
Rise Up for Biodiversity
Mango IPA (5.5%) is brewed with surplus fresh bread and surplus wonky mangoes, rescued by Flawsome Drinks and Oddbox.  The result is a very smooth, fruity IPA that's not too strong on mango flavour or too sweet.
Rise Up for Oceans
The Rise Up range also includes Toast Ale's first no/low alcohol beer. Lemosgrass Lager  (0.5% ABV) is made with lemongrass tea from teapigs infused into the beer.  «We're really proud of it«, says David.  «The lemongrass gives a really good citrussy body to the beer.  It's been super successful and had such good feedback.  We brewed the first batch in January and it sold very quickly.  So, we brewed a second batch despite calling it a limited edition!«
This is certainly a very impressive beer.  The lemongrass is not overpowering and the beer retains a well-balanced hoppy bitterness from start to finish.
David is very enthusiastic, as well he might be, about these new beers.  «We've loved doing this series since December when we started.  We kicked off with the chocolate stout, selling largely online and to a few outlets.  Lockdown made this difficult and we had many places earmarked.  Hopefully though, we've raised a bit of awareness.  Then we have the core range that we've done over the years as well.«
Rise Up for Climate
Brew//LDN also gave the brewery the opportunity to showcase a new beer they only launched that week. Raspberry Sour (0.5% ABV) is made in collaboration with B-Corp-certified Rubies in the Rubble , the condiments company, using surplus raspberries which otherwise would have gone to waste.
Raspberry Sour, like the Lemongrass Lager, is also only 0.5% ABV.  For me, it has a slightly sherbetty mouthfeel, is very refreshing and really effective as a sour beer.  Could it work well over ice on a hot summer's day, or in a non-alcoholic 'alternative' gin cocktail to replace the juniper bitterness and citrus flavours?  Something to try on another occasion perhaps …
Brewing beer to only 0.5% ABV
Toast COO, Louisa Ziane, explains how they brew these 0.5% ABV beers.  «We use a mix of a lower volume of grain to reduce the fermentable sugars, a lazy yeast and temperature control in the brew process.  The lemongrass and raspberries go into the boil with the hops and some pasteurised raspberry puree is added during fermentation (although we have to be very careful with sugars!). The base is a lager for the Lemongrass Lager and an ale for the Raspberry Sour.«
The way Toast brews these beers manages to retain both flavour and body, an impressive achievement for beers of only 0.5% ABV.
Dealing with COVID – Toast recycles its own waste too!
Before COVID-19 restrictions hit back in December 2019, Toast received a substantial order from London's Excel Centre.  The beer was to be ready the following spring, so they started brewing a large quantity of lager in January.   When lockdown came and Excel was turned into a Nightingale Hospital, the whole order was cancelled, but Toast still had the beer!  Rather than letting it go to waste with venues shut and unable to buy their kegs, they had to find another solution.  So, they worked with Greensand Ridge, a sustainable distillery in Kent, to convert the lager into Moonshine , a 44% ABV Eau-de-vie de Bière.  You can buy it from Toast's website or from Greensand Ridge's too.
Original article by https://thewritetaste.co.uk/beer_ToastRiseUp.html
Robin Goldsmith – The Write Taste
Freelance Drinks Journalist & Copywriter