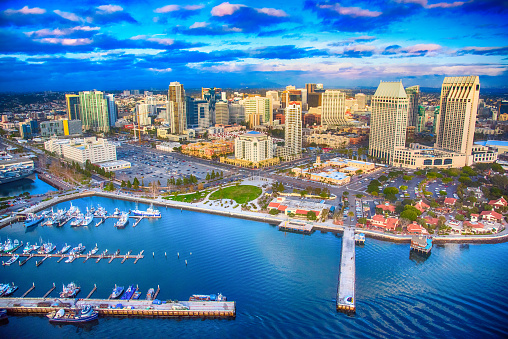 The downtown district of San Diego, California shot after a storm at sunset from an altitude of approximately 300 feet during a helicopter photo flight.
California and Texas: Old Vineyards will be included in Rescue Ancient Strategy lead by Andes Wines
California and Texas were included in the global strategy of Rescue Old Vineyards developed by AndesWines.com to focus on the creation of wines made from «Ancient Vineyards", information confirmed by Max Morales, founder of www.andeswines.com and former Wine Specialist of the National Geographic Explorer Expedition Ship.
The objective is to launch the WineTech concept, a process that was expected to be done in 2020 but due to the coronavirus pandemic, everything stopped for two years.
"Our challenge in California and Texas is to be able to know the innovation and entrepreneurship ecosystem to collaborate on technological challenges for agriculture, viticulture, tourism and fintech startups through direct consultancies in alliance with universities, innovation centers, venture capital. -investment funds and angels «, says Max Morales.
Thanks to wine, the professional launched this methodology that focuses to motivate local wineries that operate in the area to evaluate the implementation of an initiative to rescue old vineyards with local winemakers to create a new wine on the category of Old Vineyard.
The former Chilean wine guest writer for the journalist and Master of Wine website, Jancis Robinson MW, Decanter.com and other wine websites confirmed a trip to the area in January 2022 to meet the owners and wineries if the San Diego and Los Angeles area.
This interest arose after a talk that Morales gave at the Robert Mondavi Institute for Wine and Food Science of UC Davis, in California to winemakers and academics at the end of 2017, which will be replicated in San Diego in 2022. It was called "History of Ancient Vineyards, Rescue Old Vine Projects in Chile"
Therefore AndesWines.com began to look for a University that imparts Enology or Viticulture in Austin,  Dallas and San Diego to deliver an exclusive master class on the subject that will be open to the public, particularly winemakers, wine lab technical, winery owners and winemaking students.
The old vineyard rescue methodology developed by the agricultural engineer and wine marketing consultant is focused on creating a new wine category for local wineries and also, if the producer is in a wine tourism area, a tourism product development process is carried out to enhance the value of the territory to prepare when consumers wish to visit the vineyard where they can buy the wine.
«The enhancement of these territories allows the price of the grape to increase after the improvement of the entire production process, the producer can have a greater value of that grape, improve the quality of their wines and their quality of life and from from that to be able to sell their wines in other commercial channels, which is what was achieved, for example, in San Rosendo in Bio Bio Region in Chile with the oldest Malbec vines alive in the southern hemisphere", says Max Morales.
As a record, Max Morales has been leading a private investigation of the vineyard establishment for 20 years since the arrival of the Spanish, French and Italians in different periods of history in Chile and America since 1551.
Max Morales' research was published in prestigious media such as Bloomberg.com, in the report Seven ways wine will change in 2019:
https://www.bloomberg.com/news/articles/2019-01-07/seven-ways-wine-will-change-in-2019
Instagram: @andeswines
Twitter @andeswines
TikTok: andeswines.com