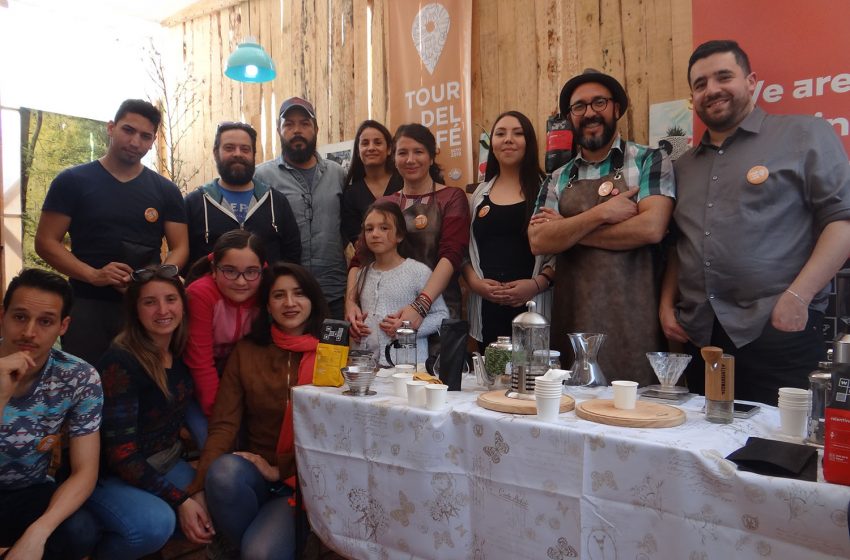 Coffee beans from Malawi, Rwanda, Ethiopia, Colombia and México will take part in the first coffee tour in santiago ( Tour del Café )
In recent years, Chile has positioned itself as a gastronomic center, promoting new trends in this area. This is how coffee, being the most consumed beverage in the world, could not be left behind. During the last few years, a group of professional entrepreneurs trained as baristas and then climbed into the field of specialty coffee, a situation that has led to a movement around this.
Baristas Enrique Leal, Diego Abarca, and Daniel Rosales met to create We Are Four Coffee Roasters, a venture that in recent years has specialized in both the importation of green beans and roasting coffee and the sale and distribution to different coffeehouses throughout Chile.
With this experience in, and track record of, We Are Four Coffee Roasters decides to lead the way on the organization of the First Coffee Tour in Santiago city. The event will take place in the communes of Maipu, Providencia, Santiago, Las Condes, and Ñuñoa from Thursday, August 22 to Thursday, September 5, 2019. And will be open to anyone who has previously registered.
According to the Coffee Marketing Specialist, Maximiliano Morales: "The activity has two main purposes. Firstly, it seeks to promote coffee culture through free coffee cupping, and guided tastings in 20 coffeehouses located in the city. Secondly, it would result in both an increase in coffee consumption and the import of beans from Malawi, Rwanda, Ethiopia, Colombia, and Mexico."
During the First Coffee Tour, the baristas of each coffeehouse will organize a tasting geared towards for those in attendance, and thus to enjoy the aromas and the coffee properties. It is worth noting that, although the beans come from different places, they are all toasted in Chile. In this way, both its freshness and quality can be preserved.
Diego Abarca, We Are Four's general manager, said «the idea is to live a unique two-week tour full of emotions and new experiences. There will be lectures by different sommeliers, baristas and coffee-related professionals. All of them will explain how to find a perfect coffee for their palate by teaching the different techniques of making coffee, and the variety of ways to toast it." Coffee lovers can learn about different preparations, explore more about the art of drawing on cappuccinos known as «latte art», and experience the different ways of infusing coffee beans (Dripper, Siphon, Aeropress, among others), as well as learn how to incorporate this traditional drink in cocktails' preparations.
During the two weeks of the event, there will be daily activities in different coffeehouses. The schedules will be from 19:00 onwards in the week, and three different schedules over the weekend. In any case, information about each activity will be shared through the hashtag #TourdelCafeEnSantiago
Among the confirmed coffeehouses stand out Prana, Coffee and Crepes, Bakery Togo, Vols, Amadeira, Naif, American Food Coffee, El Mono, Mia Margherita, Justo, Soberbia, Divinas Tentaciones, Campanil, Condell, Rescoldo, La R, among others.
Timetable: (Mon – Fri 7pm / Sat –Sun 10am/2pm/6pm)
Totally free of charge. Please note that places are limited (20 attendants).
7pm: Mia Margherita: How to filter coffee / 30th Friday
11am: Justo: How to filter coffee at home / 31st Saturday
2pm: Soberbia: How to brunch at home! / 31st Saturday
6pm: Divinas Tentaciones: Start Your Coffeehouse on a Low Budget / 31st Saturday
7pm: Cafetería Condell: Coffee + Chocolate / 2nd Monday
6pm: El Campanil: Filtered Coffee Workshop / 3rd Tuesday
7pm: Rescoldo: Coffee & coctels: / 4th Wednesday
For further information send an e-mail to andes@andeswines.com
Translation: www.bridgetraducciones.cl