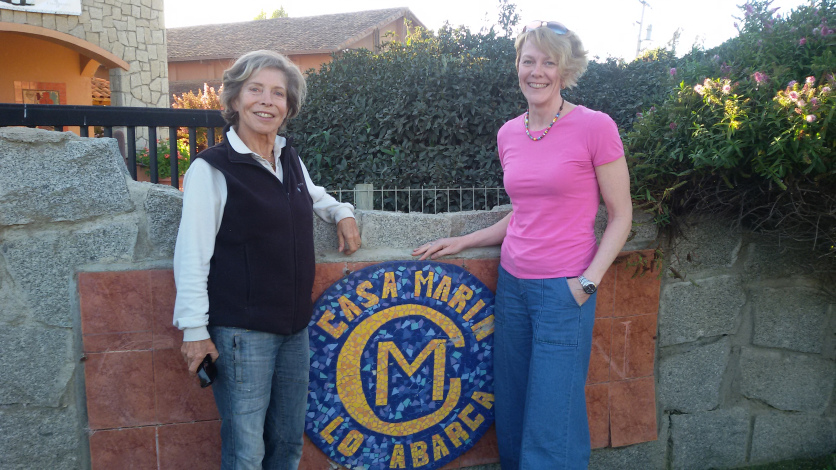 1. #ChileWineExploration Casa Marín
Casa Marín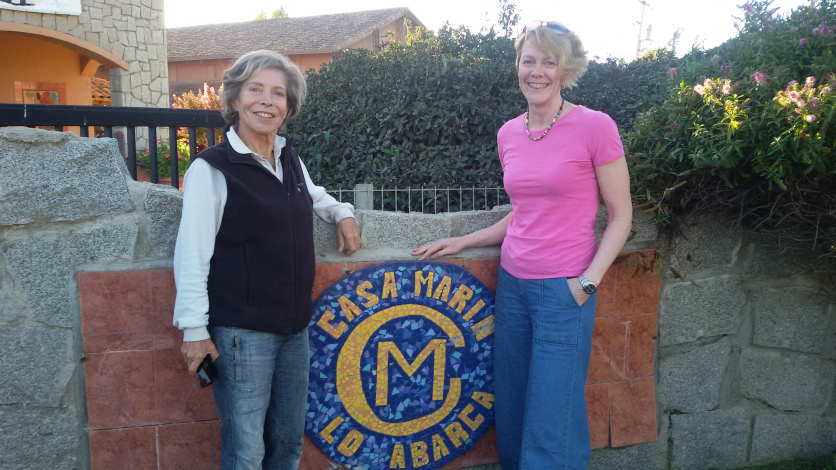 My first visit, late in the afternoon, was to Casa Marín, in the village and sub-valley of Lo Abarca in San Antonio Valley, only 4km from the cold Pacific Ocean, its location being key to wine styles here. It was a challenge finding the village as the route we took was very poorly, basically not, signposted!
Marilu Marín was the first female Chilean oenologist and it was her dream to have a winery in her home village of Lo Abarca, but she was told it was too cold. Few wineries are run and owned by the same person. Her early career was as a very successful bulk wine broker and here she earned her money to start Casa Marín alone, since she could secure no other investment partners. Established in 2000, the first vintage was in 2003 and she had planted Riesling, Sauvignon Blanc, Sauvignon Gris, Pinot Noir, Gewurztraminer and Garnacha. At that time, Chilean wines were not well recognised and in the UK the best wines were selling for only 10GBP; she wanted to achieve top prices like Cloudy Bay and Dog Point, at that time about 16GBP. There was huge recognition for her first vintage and it got the 16GBP price point which Marilu had wanted. The UK is their second market today, after Denmark, and ahead of Brazil and only 15.000 cases are made. Commercially, expansion is difficult, not only on a small budget but also whilst maintaining the quality of the flag-ship wines, and so it is being achieved through the introduction of a range of second wines called Cartagena. These are entry level wines and have been produced since 2009, becoming an important brand. Volumes of Casa Marin are limited, only 500 cases, and despite the ageing potential of the wines, the market wants the current vintage; Cipreses Vineyard, the iconic Sauvignon Blanc was out of stock at the time of my visit (approx. 20GBP). Cellar door sales form an important part of the cash flow for the winery and in Chile the wines can now be bought online from Vinoswine. Several UK wine shop sell them including BBR, Hedonism but being boutique, low volume, you won't find them in the supermarket! Nor is a full range available! The doors are closed in the USA as volumes are so very small; their loss!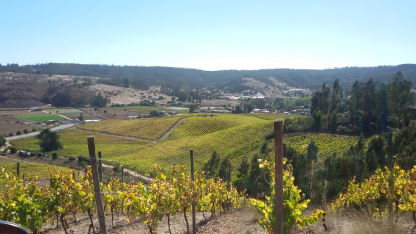 Jamie Verbraak, Commercial Manager, met us and took us straight up into the vineyards in the inevitable, hard-working 4×4 which every Chilean vineyard owner needs on this mountainous terrain. This is cool climate grape growing here, 27ºC being the highest temperature they've ever recorded while it was 33ºC inland in Casablanca, and this dictates the varieties which can be ripened. The breeze off the Pacific is cold, nights are chilly even in summer and 90% of the vines are planted on hillsides up to 120m above sea level. There are numerous microclimates depending on the elevation and aspect (north, south, east and west exposures) and protection from the ocean breeze, and the 40 hectares is divided into over 60 different parcels or blocks. In addition, there is a variety of soil types, from loamy sandy soils at higher levels and limestone and granite lower down the hillsides.
Syrah needs warmer climate and is planted where it receives more sun and further up the slopes to avoid frost hollows. Frost is a significant problem here, as are birds and many vines are netted.  Sauvignon Blanc, Garnacha, and Pinot Noir are planted on grafted rootstocks on pure chalk. It was interesting to see the difference in leaf colour and ripeness of the grapes from the bottom, mid and top of slopes. On the change to granite soils Riesling is planted with the inclination and exposure of individual sites being used to advantage. Margarodes, tiny insects which eat the roots and eventually kill the vine, are a problem here and although there is no treatment or cure for them, the vines are strengthened by good nutrition to make them more resistant to attack. As commented in my WSET report, I can't help but see the parallels here with Phylloxera. Gewürztraminer production levels have suffered due to frost as had the Pinot Noir. Harvesting is done on a differential basis, each block being picked only when it is ripe and not before.
In the winery, vinification is in separate small tanks to enable complexity in the blending with minimal SO2. A range of stainless steel tanks and barrels of varying age are used.
Luckily for me and a group of MW students, Marilu not only joined us for our tasting but guided it too! Felipe too! The wines tasted were the Casa Marin range and they were all of outstanding quality.
Tasting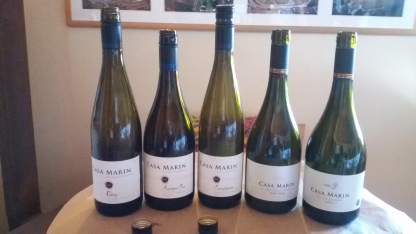 Riesling 2016, 13%: youthful, floral, zesty lime with peachy stone fruit. Mouth-watering acidity, medium plus body, medium plus alcohol and long finish.
Sauvignon Gris 2016, 14.5%: this was extraordinary! Complex nose resulting from varied winemaking techniques, some stainless, steel some barrel fermentation, and some skin contact. Elderflower and nettles on the nose with a full bodied palate, mouth-watering acidity, roundness from the oak, well-structured and very long. Delicious!
Gewürztraminer 2016, 14%: this was very closed to begin with, for me initially very difficult to taste, but soon opened up to typical Gewürztraminer lychees and roses, full bodied and plump. Lovely!
Pinot Noir 2011, 13.5%: pale ruby in colour, very clean and crisp, red berry fruits, strawberries and cherry, complexity from 12 months in French oak and natural yeasts. Ripe fruits hint at sweetness on a dry palate, juicy and long, gentle spices fine grained integrated tannins. Really lovely wine.
Syrah 2010, 12%: the low alcohol is not typical of Syrah, but it struggles to ripen here meaning low sugar levels. Slightly reduced nose opens beautifully to black and red berry fruits with cinnamon spice, tar and smoke. Very mineral, juicy acidity, fine grained tannins, integrated and balanced. Beautiful cool expression Syrah!
A huge thank you again to Marilu, Philipe and Jamie at Casa Marin for sharing your passion with me!
Please give them a visit! And buy some wine!Publicado el 10 agosto, 2017Deja un comentario en 1. Casa Marín
Originally published at https://wineovino.wordpress.com/page/4/
andes@andeswines.com