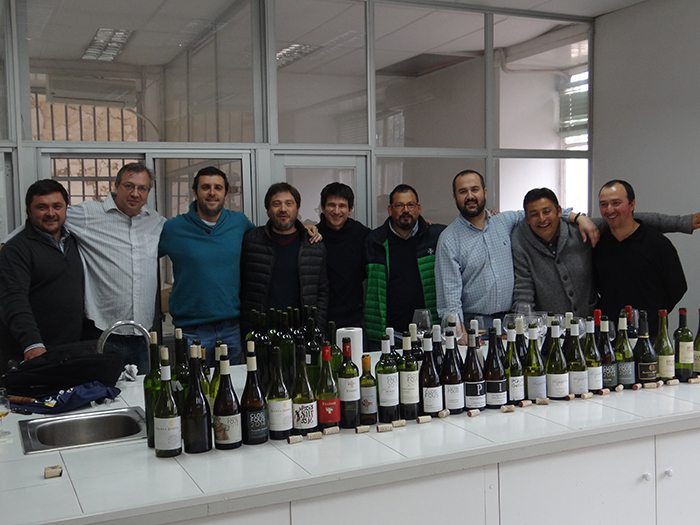 Let´s meet Cyril Penn, Editor of WineBusiness.com, exclusive interview!
After visiting Chile for over a week, we interviewed Cyril Penn, editor of WineBusiness.com from the United States who told us more about his new vision of Chilean Wines.
¿What did you see in Chile in your last trip that changed your vision of Chilean Wine Industry?
This was my second trip to Chile. The first time, more than ten years ago, I visited some large wine producers. You could call them the usual suspects. The most recent visit focused on small producers. A tasting organized by Pedro Parra and Francois Massoc in Cauquenes with other local small producers changed my vision of the Chilean wine industry because I could see and taste the excitement for myself. These winemakers are making high quality, terroir driven wines and they're entrepreneurial about it, with a passion for doing something new. The wine Pedro and Francois made with newly-discovered 140-year old Malbec vines was the most memorable, but there were several others that were impressive. I was told that some winemakers are realizing that they can be sustainable as a business by making premium-priced wines if they can get to a level of 3,000 annual cases or so.
The winemakers at the tasting in Cauquenes were having as much, if not more fun, talking to each other about their craft, as they were speaking with me. The structure of the Chilean wine industry is so different than that of California and the U.S. We have 9,000 wineries in the United States, most of them small, but there aren't very many small producers in Chile, as I found out. I can tell, from my short visit, that this is poised to change over time and that's exciting. The era of small, independent wineries in Chile is coming.
I also hadn't met Pedro Parra before, even though he has consulted all over, including with producers near my home base in California. I was interested to learn a little about his approach to helping clients discover and understand their terroir. Quick visits to Bandido Niera and Viña Mirador del Valle were also instructive.
I was stuck by the vast acreage of "old" vines planted throughout southern Chile – I had no idea. It is ironic to me that grapes from so many of the old vines in Chile are sold at commodity prices to producers of bulk wine. Old vines are highly sought after and are in short supply here in California. Grapes from old vines sell at a premium here.
Last but certainly not least, it was fascinating to see the experimental Pinot Noir vineyard Villaseñor planted in Patagonia. Such a beautiful area and Villaseñor is planting an additional vineyard in the area, with plans to build a production facility in a couple of years. I tasted it for myself, the Pinot Noir was ripe, or at least ripe enough to make good wine – even though it is the southern-most vineyard in Chile, and possibly in the world.
I also was fascinated to learn that UC Davis is active in Chile with an excellence center that will be taking the model of "extension advisors" that we have here in California, and to deploy it in Chile with field agents who will help growers and winemakers improve quality. I am a new member of the executive advisory board to the UC Davis Viticulture and Enology Department but didn't know much about UC Davis' activity in Chile.
¿How is the US Wine Industry right now considering the big impact of Climate Change in Europe. Any specific issues you see California will have to face soon like expanding wine regions?
I learned that Southern Chile is being eyed closely as a new frontier for premium winemaking, particularly given expectations of climate change. Here in California, climate change has not been perceived to be that much of an issue for winemakers – yet. We don't have new areas to plant left – California's premium grape production areas are pretty much fully planted already. That means that over time, climate change probably won't lead producers to plant in new areas (with the exception of in Southern Oregon, which is cooler and has future potential). Instead, we may see a shift in terms of the varietals that are planted in different areas. My sense is that some wineries are still in denial about climate change, despite the strong focus here on sustainable farming.
¿Can you explain us a bit about what type of events WineBusiness.com organizes in California, target and objective?
Wine Business Monthly is an information provider to the U.S. wine industry. In addition to Wine Business Monthly, we publish the Wine Business Insider newsletter, and through our website, winebusiness.com. Our sister publication is Wines & Vines. We have also ventured into the events business recently, another way of producing the industry with information. We produce an annual Innovation and Quality conference (IQ) focused on improving quality in winemaking; We also produce a trade show held on California's Central Coast called WiVi (stands for Winemaking and Viticutlure). We also organize the Wine Industry Technology Symposium, a show dedicated to successfully deploying new software technology; and we now produce the annual Wine Industry Financial Symposium, the Winejobs.com Summit, and an annual Vineyard Economics Seminar too.
andes@andeswines.com
Twitter: @andeswines